Tunnel, Tehuacán, Puebla
Ground Anchors (Bar and Strand):
Self-drilling and traditional with prestressing steel strand or bar.

We also invite you to see...
We represent ISCHEBECK in Mexico

and also use

DEL

technology: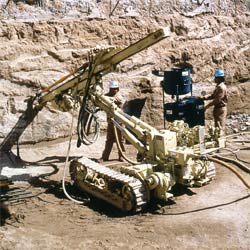 Introduction
The ground anchor system is for stabilization of excavations and consists of the insertion of steel bars by mechanical procedures into the ground. The use of the drilling shaft as grouting conduit for filling the borehole from the bottom-up guarantees a positive and complete embedment of the tension elements, thus eliminating the possibility of voids. It also avoids additional grouting tubes, air vents and post-grouting.


Anclas autoperforantes
The self-drilling ground anchor system
Anchors may be used for any soil or rock anchor application within the specified loading limits. They are particularly well-suited for site conditions involving unstable or raveling soils where conventional anchor installation would require drill casing to mantain an open hole between drilling and anchor installation.
Since the Anchor simultaneously serves as drill rod, grouting conduit and anchor tendon, installation time is significantly reduced and, where cased holes would have been requiered. material costs are lower.
Lenghts are easily coupled as drilling proceeds to achieve whatever finished anchor length may be needed.
A cement grout is commonly used for grouting and bonding. The hollow center may be flushed with water or air between grouting slages.
Advantages
Continuous coil thread:

permits cutting to any length for ease of transportation, handling and installation in close quarters. Thread is highly resistant to dirt and damage.

Hollow center:

For simplified grout injection without the need for a double-tube (grouting / venting) system.

Made of fine-grain steel:

with high elongation, high yield strength and good notch impact value.

Threaded connection:

for coupling anchor lenghts are fast and secure, and are equipped with center stops to ensure fulldepth coupling for each segment. Heat treated, hardened surface resists percussion damage, and chamfered ends facilitate return of drilling cuttings to avoid blockage.

Couplers and anchor nuts:

develop the specified ultimate load of the hollow center bar.

Corrosion resistance:

equal imbedded reinforcing bar - can be increased by optional hot dip galvanizing. Also available in stainless stell.

High shear resistance
Equipment