Corporativo Bosques, México City
We present to you
Slab Formworks Dokaflex
Large Formworks Top 50
Climbing Formworks 150F
We invite you to see...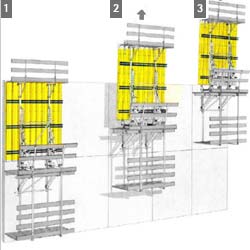 Basic Steps
The anchors are released and the formwork panel is retracted from the concrete with the scissor-action spindle. The next suspension points can now be prepared.
The entire unit is now raised in one single cranelift and suspended from the prepared suspension points.
The reinforcement, from work-erection, plumbing and pouring work can now be carried out.
Advantages
All the jobs on the scaffold are quick and easy to do
The wide working platform of the climbing formwork 150F make for fast, easy working on the scaffold, while the generous retracting distance of about 75cm makes it easier to clean the formwork and to prepare the suspension points.
The formwork panel is supported by adjustment spindles during final positioning. They are attached to the vertical waler and the height can be adjusted up to 15 cm. In addition they can be rearranged over a row of holes in the vertical waler. Therefore the formwork can be attached at various heights. The ends of the adjustment spindles are equipped with plastic bearings in order to shift the elements easily in the horizontal.





Advantages
Typical operation of external climbing formwork and inside-mounted shaft platform
Striking (without crane)
Release anchors. Release wedges of vertical waler.
Retract the elements. Prepare next suspension point.
Lifting (with crane)
Lift-up external climbing unit first.
Lift the entire inside shaft-formwork.
Formwork erection (without crane)
Formwork erection inside. Placing reinforcement.
Closing Formwork. Pouring.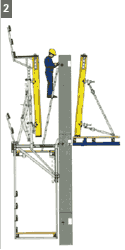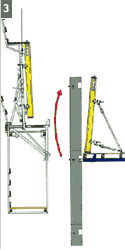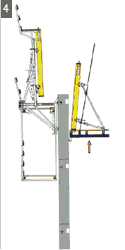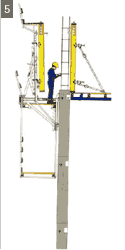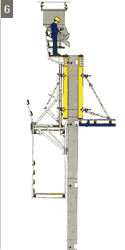 Main Components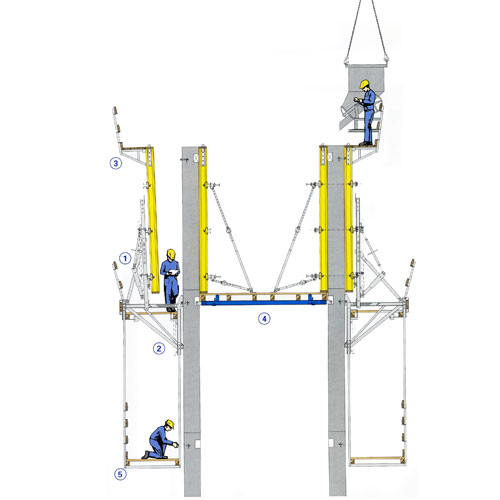 Main components of the climbing formwork 150F
Vertical waler ans scissor-action spindle

Climbing bracket 150F

The scaffold bracket L

Shaft platform

Lower platform