"Tarango" Bridge, México City
We also invite you to see... PDF brochure to download:
Opening Detail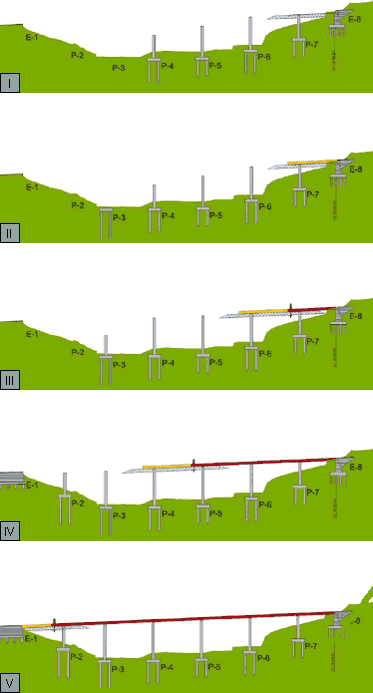 Sequence
Installation of Shoring & Forms at the starting abutment. Substructure being built enough in advance. (I)
First segment casting: 1st span & 1/4 of the 2nd for continuous decks. (II)
Concrete prestressing: Bonded post-tensioning.
Shoring opening and advancing. (A)
Shoring closing and Form adjustment.
Second segment casting: Rest of 2nd span & 1/4 of 3rd for continuous decks. (III)
Cycle repetition as many times as spans. (IV, V).
Shoring & Form removal at end of last segment.
Se han logrado ciclos de 4 días.
Advantages
Urban sites:
No cranes, haulers or falsework on streets.
Cast in place:
Free longitudinal, transverse shapes
Seismic areas:
continuous superstructures
Speed of construction:
4 days per segments/span