WTC, México City
Rebar Splicing is used to connect rebars without welding or overlaping them

We also invite you to see... PDF brochure to download:
We use

DEL

technology:
Installation
Installation
Mark rebar with half coupler's length from its end.
Install coupler up to mark.
Half of coupler swaged.
Insert, second bar, that's already marked, and check its position.
Second half of coupler swaged.
Sight verification of entire swage.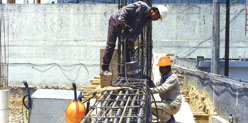 Tower "Comercial América, Monterrey, N.L.
Features
Cold-swaged.
Needs no x-ray control
Easy to monitor on job site, for quality control.
Can be used for new construction or for structure repair.
Exceeds 125% of specified yield.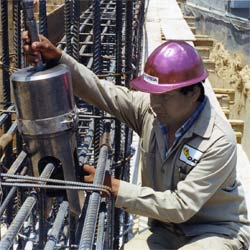 Press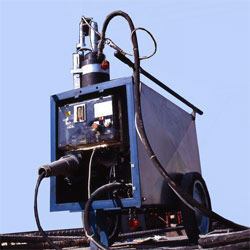 Hydraulic Pump
Specifications
ACI 318-95, section 12-14-3-4
ACI 349-76, section 7-5-5
ASME Section III, Division 2,
Section CC-4333,2-3
United States Corps of Engineers
Section 8-18, 7-2
ICBO cyclic testing.
Advantages
Since no heat is needed for splicing, the features of the rebar steel do not go through any changes.
It is possible to splice rebars of different diameters.
Splices rebars with any corrugation pattern and with any protection treatment.
Can be installed in any weather conditions.
Rebar ends need no special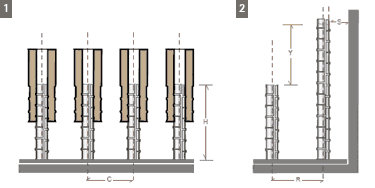 1. Single Row
2. Double Row
Minimum requirements
H - Height for bar above concrete.
C - Distance between bar centers.
R - Distance between bar row centers.
Y - Difference of height from one row to another.
S - Distancie of row from form.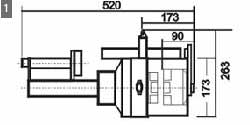 1. Type HP 27 (800 Bar)
Reinforcing bar size
Minimum setting out dimensions
H mm
C mm
R mm
Y mm
S mm
No.3
184.5
155
155
184.5
155
No.4
194
155
155
194
155
No.5
197
157.5
157.5
197
157.5
No.6
215
162.5
162.5
211.5
162.5
No.8
231.5
168.5
168.5
231.5
168.5
No.10
241.5
172.5
172.5
241.5
172.5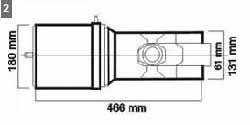 2. Type HP 33 (500 Bar)
Reinforcing bar size
Minimum setting out dimensions
H mm
C mm
R mm
Y mm
S mm
No.3
162
105
199.5
162
199.5
No.4
170
110
205
170
205
No.5
179.5
110
205
179.5
205
No.6
178
112.5
207.5
178
207.5
No.8
189
117.5
212.5
189
212.5
No.10
201
123.6
218.5
201
218.5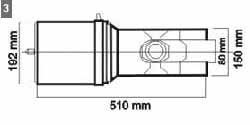 3. Type HP 32 (500 Bar)
Reinforcing bar size
Minimum setting out dimensions
H mm
C mm
R mm
Y mm
S mm
No.4
176.5
120
220
176.5
220
No.5
185.5
120
220
185.5
220
No.6
184
122.5
222.5
184
222.5
No.8
195
127.5
227.5
195
227.5
No.10
208
133.5
233.5
208
233.5
No.12
218
137.5
237.5
218
237.5
No.14
230
143
243
230
243
Weight and dimensions of extruded couplers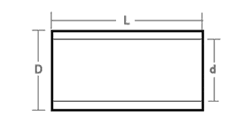 Weight and measures
Reinforcing bar size
Coupler Weight
kg
Inside Diameter
mm
Outside Diameter
mm
Nominal Lenght
mm
No.3
0.1
12.7
19.1
60.3
No.4
0.3
15.9
30.2
76.2
No.5
0.4
19.1
30.2
95.3
No.6
0.5
22.2
35.0
101.6
No.7
0.7
27
39.7
120.7
No.8
1.0
29.4
44.5
137
No.9
1.3
33.3
49.2
140
No.10
2.0
36.5
57.2
170
No.11
2.2
41.3
60.3
175
No.12
3.0
44.45
65
230
No.14
4.0
49.2
71.5
222.2
No.18
10.5
65.1
95.3
305