"Infiernillo" Bridge
We present to you Jacking System:
Lifting, lowering, pushing, pulling, pile driving, pipe jacking.

We also invite you to see...
PDF brochure to download:
We use

DEL

technology: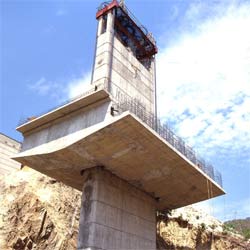 Bridge " El Pozuelo", Road México-Acapulco
Introduction
MEXPRESA, following his guideline to give technical solutions for the construction, has once again used the high pression hidraulic for lifting great weights, up to 1000 tons up to 50 meters high in just 10 hrs.
For example, the pier cap of the "El Pozuelo" bridge on the Mexico-Acapulco Highway was built on the ground independent to the structure and jacked to the top of the pier in just 10 hrs.
The advantages of this procedure where evident, because the time-cost of this operation permitted the contractors to finish the bridge on time.
This is why the high technology of MEXPRESA always offers the best solution to each problem.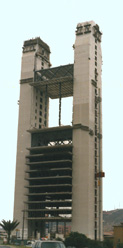 Tower " Dataflux", Monterrey
Technical information
The jacking System used for "El Pozuelo" bridge had 4 jacking devices, each with an effective capacity of 250 tons. These devices where operated by hydrauilic systems with an electronic control station to make any adjustments to the vertical displacements.
The devices where positioned on some steel beams each of them resting on concrete colums placed on the pier of the bridge. Each of the 4 devices had a 20 tendon package of 0.6" anchored on the inferior part of the pier cap.
The level control during the jacking procedure was checked by TV camaras monitored from the control station.
Once the pier cap reached its position, the structure was binded with concrete and by stressing the tendons.
Finally, the steel beams and all the jacking system devices where removed.


Tower " Dataflux", Monterrey
Applications
The jacking system allows to lift and displace high weights at great heights (100 mts and superior ).
For example it can be used for lifting and displacing Complete Structures or in parts like oil platforms, pier caps and prefabricated bridge structures, or industrial and stadiums roofs, as also for building slabs, and all kind of towers.
On the other hand, the jacking system can be used either for vertical or horizontal displacements and liftings such as for example for the construction of arch bridges.