The "E" and "V" DELASTIC series, preformed Preformed Seals are the primary sealing system for concrete pavement slabs in all major application, primarly in concrete roadways, airports and runways.


We represent THE D.S. BROWN COMPANY in Mexico,

and also use

DEL

technology: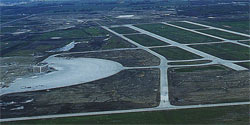 Materials
The Neoprene compresion seals DELASTIC are extruded from compounds of neoprene (polychloroprene) which meet the ASTM Standard Specifications for concrete pavements or bridges.
Delivery
The extrusions are shipped on either reels, spools, or in boxes in ordered lenghts, marked as required by the customer. The lubricant/adhesives are supplied in one or five gallon containers, clearly labled with the necessary data.
Installation
In all instances the joint sides must be reasonably clean and free of spalls with a properly designed width. Depending on seal size and type, tools are available for rental or sale to facilitate insertion. Lubricant-adhesives are used in most applications.
The desirable installation temperature on outdoor job sites ranges from a maximum of 75-80°F (seal become difficult to install at higher readings) to a low of 35-40°F (The lubricant-adhesives have impaired effectiveness in cold air.)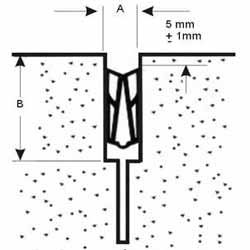 The "E" and "V" DELASTIC series
The "E" an "V" series preformed neoprene seals are the primary sealing systeor concrete pavement slabs in all major applications -primarly in concrete roadways, airport aprons and runways.
Preformed neoprene seals are designed to prevent the entry of harmful and damaging particles and moisture into the concrete joint. The seals performs this duty by exerting constant compressive force on the joint face while allowing the concrete to expand and contract due to temperature and physical changes that may occur.
DELASTIC preformed neoprene seals are recognized by the FHWA, Corps of Engineers, U.S. Air Force, consulting engineers and other agencies as a longlasting and effective concrete pavement joint seal.
As joint seals receive increasing attention in the industry, the superior life cycle value of the preoformed neoprene compression seals becomes apparent. Some of the other benefits that accompany the use of our preformed compression seals is its ability to seal joints in concrete where high moisture is present, its resistance to jet fuel, the speed os installation, cleanliness of the product, ease of inspection and the dramatic reduction in concrete joint spalling.

The "CV" Series
For the important movement ranges from 0.5 inch (10mm) to over 2.5 inches (69mm), the heavy duty series is the CV design. This series differ mainly in their dimensions and internal geometric arrangement. The CV series extrusions accomodate the expansioins and contractions of the structure, thermal and other, and they also are capable of accepting most commonly occurring lateral and vertical shear and rotational movements. No harmful stress is exerted against the joint walls. Properly sized and installed preformed compression seals are among the simplest and yet most durable joint system for joint openings in all sorts of structures, especially in bridges.